These Silhouette Deer Wedding Invitation Collections are is a beautiful choice for wedding held during the winter. Choose from two different designs. There is an enchanting night and a beautiful crisp winter day design. Each collection includes invitations, RSVP cards, postage stamps and other matching accessories. Take a look and find the perfect set for your beautiful winter wedding!


Enchanting Evening Collection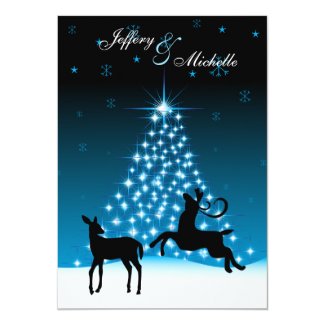 Deer Couple and Tree of Lights Snowy Night Wedding Invitation
This collection includes the following matching products...
Crisp Winter Day Collection
There a few different invitation options for this design. The following is a traditional wedding invite that requires separate RSVP and reception cards (available below)...
If you want to keep your wedding plans simple or need to cut costs without sacrificing quality and style, this invitation is available with the following options: